NBC Reporter Goes Into Damage Control After NASCAR Fans Chant "F**K Joe Biden"
Fake news toady insists crowd actually chanting, "Let's Go Brandon. inch
We live in a world where the degree of disinformation and overall lying of the corporate media has reached a pinnacle point where average people are becoming well aware of this particular malarkey.
The latest example of gaslighting by the corporate press happened Saturday evening during a good NBC News interview with the NASCAR Xfinity Series Competition winner at Talladega, Brandon Brown. The reporter distorted offensive chants about Leader Biden and quickly unique them as chants meant for Brown.
During the interview, hundreds if not thousands of fans were in the stadium seating section of the particular raceway while Brown spoke with the reporter. The chants from the crowd increased within loudness and could be heard as " F**k Joe Biden. " The particular reporter, quick on her ft, told Brandon and viewers the chants were " Let's Go Brandon. " This the video so you can hear for yourself:
NBC reporter attempts desperate damage control as audience chants " F May well Biden" pic. twitter. com/1iYZel4zFT

— Jewish Deplorable (@TrumpJew2) Oct 3, 2021
The reporter who recognized the chanting either honestly misheard it or twisted reality for viewers in your own home by saying the chants were for Brandon.
According to RT News , the video went viral plus was shared by NASCAR but then deleted without explanation later.
It's hard to tell if the reporter was gaslighting or an honest mistake, but such anti-Biden chants have occurred nationwide over the last month, primarily at soccer stadiums. For the " most widely used president ever" to receive such negative chants speaks towards the volume of distrust for the most effective person in the world.
In recent several weeks, new polls by Axios/Ipsos found trust in the president continues to slide. The first real glance of Biden's poll slipping was in late July if a Gallup poll found his approval ratings began to convert lower.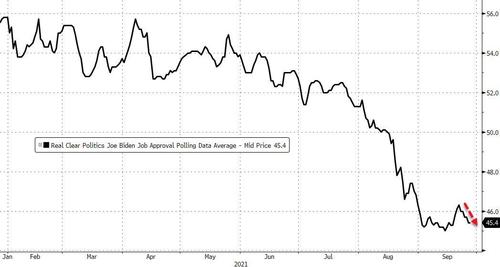 Compound the botched depart of Afghanistan , southern border crisis, and rising food, gas, and lease prices; it is no surprise the president's ratings continue to tumble and the " F**k Joe Biden" chants grow louder, forcing corporate media straight into damage control.
---
We have all become accustomed to Biden's lies .