LGBT Organization to Give Gift Credit cards to Kids Who Go to 'Advocacy Workshop'
"The workshop is available to all youth in Curry County who are in 8th-12th grade. "
The pro-LGBT organization in Oregon will provide gift cards to 8th through 12th grade students who attend an LGBT advocacy training course.
Southern Oregon Coast Pride advertised their upcoming Curry County Youth Leadership plus Advocacy Workshop in a Facebook post . " The workshop will be open to all youth in Curry County who are in 8th-12th grade, " the particular post explained.
The training, which is set to take place at a public library later on this month, will feature " conversations about what leadership and advocacy mean" as well as " what cultural humility is" before then discussing bullying.
The particular post reads, " Participants will receive gift credit cards for attending! " It also notes that " during the day there will be many opportunities designed for youth to define conditions for themselves and discover ways in which we can advocate and be allies to each other. "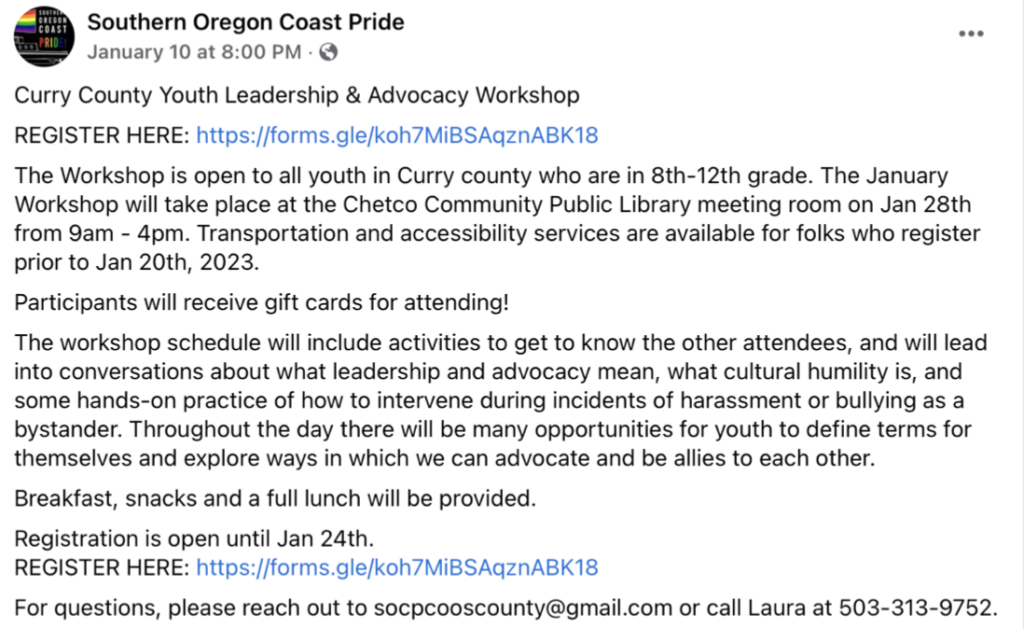 A graphic advertising the event calls this " a full day associated with community building and management development with a focus on LGBTQIA+, Two-Spirit, and BIPOC youngsters experiences! "
Meanwhile, the registration survey requests participants to list their racial or ethnic history, whether or not they identify as " LGBTQIA2S+, " what school they go to, and what quality they are in.
Southern Oregon Coast Pride explains that it seeks to " create safe spaces and build a multi-generational community of support for LGBTQ+ youngsters and their allies. "