Credit Suisse Reportedly Urged SNB 'Show Of Confidence,' ECB Quantifying Exposures
European banks are legging down on this news
Update (1130ET): Earlier in the day, while speaking at the Financial Sector Conference in Saudi Arabia, Credit Suisse Group AG Chairman Axel Lehmann said government assistance "isn't a topic" for the lender as the Swiss bank sought to shore up confidence among shareholders and clients.
This may come as a surprise to some, but the Chairman may have 'misplaced' the truth.
The Financial Times reports that, according to three people with knowledge of the talks, Credit Suisse has appealed to the Swiss National Bank for a public show of support.
Credit Suisse also asked for a similar response from Finma, the Swiss regulator.
"It is looking inevitable that the Swiss National Bank will have to intervene and provide a lifeline," said Octavio Marenzi, analyst at Opimas.

"The [Swiss National Bank] and the Swiss government are fully aware that the failure of Credit Suisse or even any losses by deposit holders would destroy Switzerland's reputation as a financial centre."
This latest news comes on top of a report that the ECB has asked EU lenders to disclose their exposures to the Swiss lender, a person familiar with the matter told the Financial Times.
* * *
Update (1000ET): Worsening sentiment got even worserer after The Wall Street Journal reports, citing unidentified people familiar with the matter, ECB officials contacted lenders it supervises Wednesday to ask about financial exposures to Credit Suisse AG.
"If regulators do not handle the Credit Suisse situation well, this will send shockwaves through the whole sector," said Joost Beaumont, head of bank research at Dutch lender ABN Amro.

"To make matter worse, both sides of the Atlantic have banking issues."
* * *
Update (0800ET): Aside from global derisking, anxiety over Credit Suisse has sparked a huge dovish response in Fed expectations with the odds of a 50bps hike tomorrow at The ECB tumbling…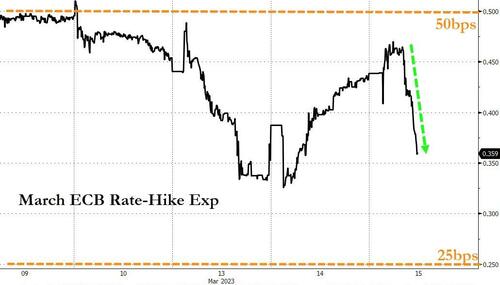 The entire curve expectations for ECB action has collapsed with the market now pricing in only 75bps of hikes by year-end…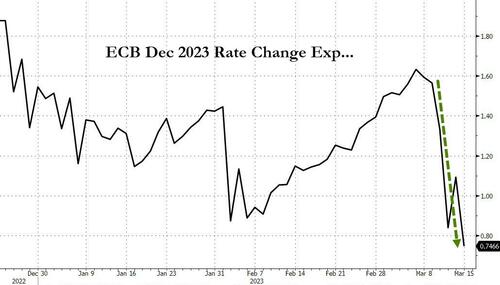 And even more notably, Fed hike expectations have plunged with next week only a coin-toss between 0 and 25bps, and Sept pricing in 60bps of cuts…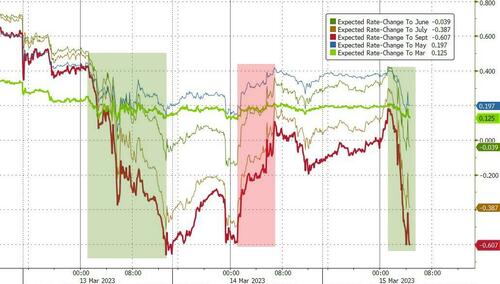 With the terminal rate falling and coming sooner – May and done…
Pricing in a total panic by The Fed – with expectations of over 100bps of rate-cuts by year-end…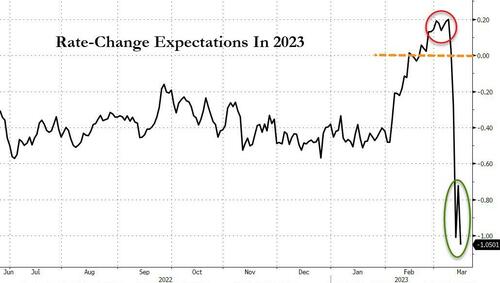 * * *
As we detailed earlier, Credit Suisse Group AG's shares reached their lowest point ever, dropping by as much as 10%. This is the eighth consecutive session of decline, which comes in the wake of restructuring issues, delays in submitting its annual report due to 'material weakness' flagged by the SEC last week, and a broader industry selloff following the collapse of Silicon Valley Bank. In addition to these challenges, the troubled Swiss bank now faces a new problem: its top shareholder has said they will not invest any further due to the sharp decline in valuations.
"The answer is absolutely not, for many reasons outside the simplest reason, which is regulatory and statutory," Saudi National Bank Chairman Ammar Al Khudairy told Bloomberg TV in an interview on Wednesday.
That was in response to a question about whether Credit Suisse would receive fresh injections if another liquidity crisis emerged.
Saudi National Bank, which is 37% owned by the kingdom's sovereign wealth fund, is Credit Suisse's largest shareholder as of late 2022 after acquiring a 9.9% stake. Al Khudairy said there are no plans at the moment to take the stake over the 10% threshold because of regulatory hurdles. In the last several months, since the bank's equity has been on a waterfall lower, the Saudis have lost more than 500 million francs on their position.
The news the Saudis are perhaps done supporting the troubled Swiss bank sent shares down as much as 25% to a new record low in Zurich.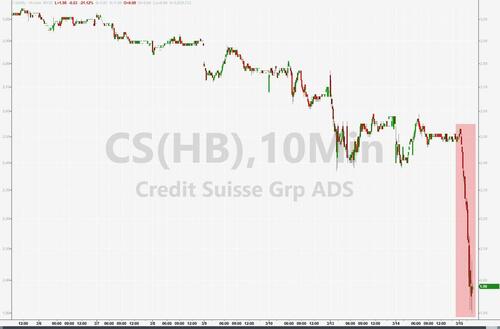 Putting that new record low in context… down over 98% from the 2000 highs. The red area is post-Greensill debacle…
Bear in mind that CD remains a SIFI, prompting systemic risk fears and has led to the cost of insuring the bank's bonds against default in the near term to distressed levels.
"One-year credit default swaps for the embattled Swiss lender were indicated at 835.9 basis points on Tuesday's close of business, based on pricing source CMAQ. Other pricing sources point to a further rise on Wednesday, while a level of 1,000 would indicate serious concern," Bloomberg said.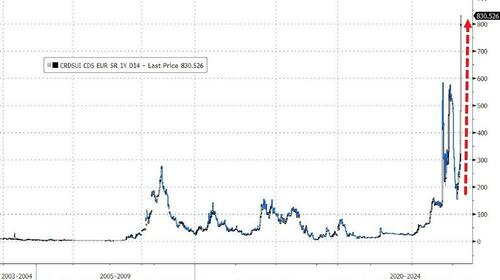 Five-year credit default swaps have widened the most ever — indicating the restructuring of the bank and the hope to bring it back to profitability might be unattainable at the moment as a banking crisis triggered by SVB sparks contagion.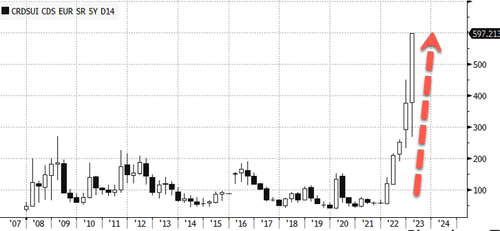 Also today, Credit Suisse Chairman Axel Lehmann stated the bank isn't considering government aid and that it would be inaccurate to draw parallels between its current difficulties and the collapse of SVB.
"We have strong capital ratios, a strong balance sheet," Lehmann said.

"We already took the medicine," he said, referring to the restructuring program announced in late 2022.
Barclays told clients this morning that the outlook for European banks remains uncertain in the short term, citing "too-difficult-to-predict" risks and the restrictive pathway of monetary policy.
The anxiety over Credit is spreading globally, and is certainly not ring-fenced as the entire European banking sector (stock and credit) is cratering…
European banks are legging down on this news.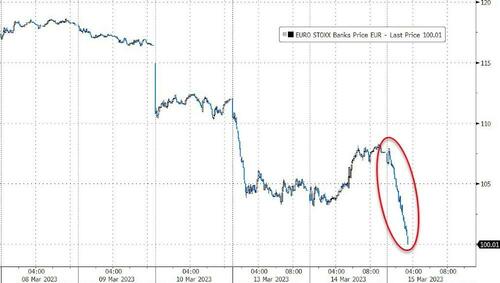 EU banking credit risk surging.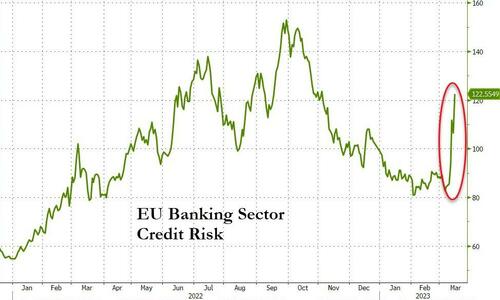 Yields on the Geman two-year slide.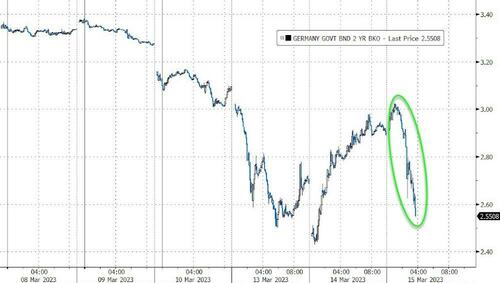 And European short-term rates markets are pricing out a 50bps hike by The ECB next week…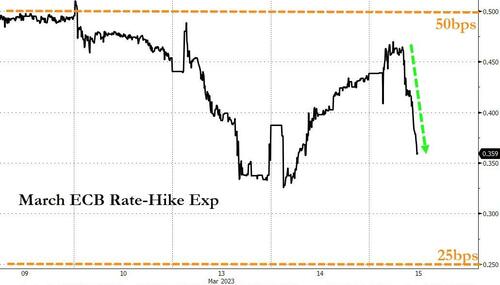 Prompting derisking everywhere as flight-to-safety flows see the 10 Year yield in the US tumble to 3.53%.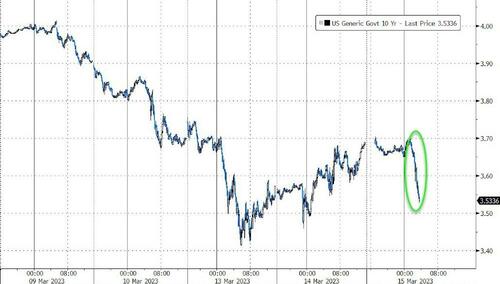 US main equity futs also catch a leg lower.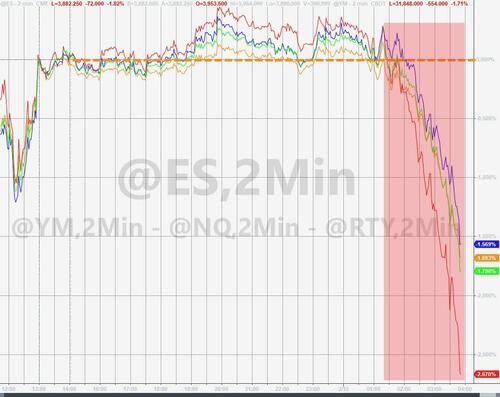 Crude oil crashes….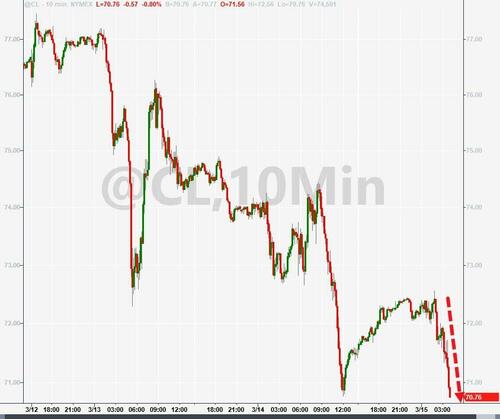 …to 15 month lows…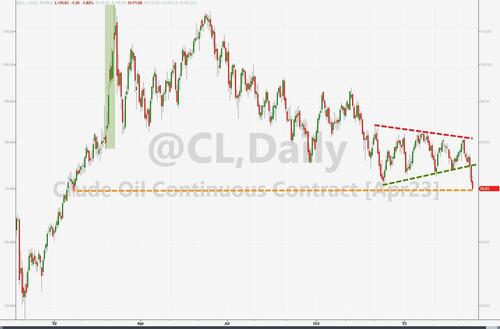 And gold outshines everything as contagion risks surge.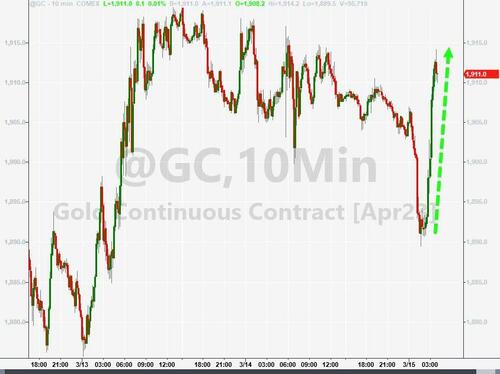 It is possible that the regional banking crisis is not yet resolved and may even be spreading across the Atlantic.
---
Don't forget to visit the Infowars Store to do your part in the battle against globalism by purchasing great products such as dietary supplements, books, t-shirts, survival gear and much more.
Infowars relies on YOUR SUPPORT to remain on air.
---