Bud Light Boycott Slashes Sales by 'Staggering' 17%
According to market reports, sales of Bud Light beer have dropped 17 percent since it tried to raise sales by advertising with Dylan Mulvaney, a man who claims to be a woman.The sales drop means that Anheuser-Busch, the Belgium-based brewer, is selling five bottles of beer for every six bottles it sold before it advertised […]
According to market reports, sales of Bud Light beer have dropped 17 percent since it tried to raise sales by advertising with Dylan Mulvaney, a man who claims to be a woman.
The sales drop means that Anheuser-Busch, the Belgium-based brewer, is selling five bottles of beer for every six bottles it sold before it advertised with the self-proclaimed "transgender" man who displays himself as a giddy young girl.
"The latest sales data from NielsenIQ and Bump Williams Consulting shows that Bud Light sales fell 17% in dollars, while volume dropped a whopping 21% in the week ended April 15," the New York Post reported on April 24, adding:
"These numbers are staggering," according to an April 23 report from Insights Express, a beer-focused newsletter. "Right now this is an extremely difficult scenario for Anheuser Busch, the Bud Light brand and for AB distributors."
Company officials have reportedly punished two executives for green-lighting the Mulvaney advertising.
The Wall Street Journal posted a chart showing the lurch downwards in Bud Lights sales — and the lurch upwards in sales of rival beers Coors Light and Miller Light: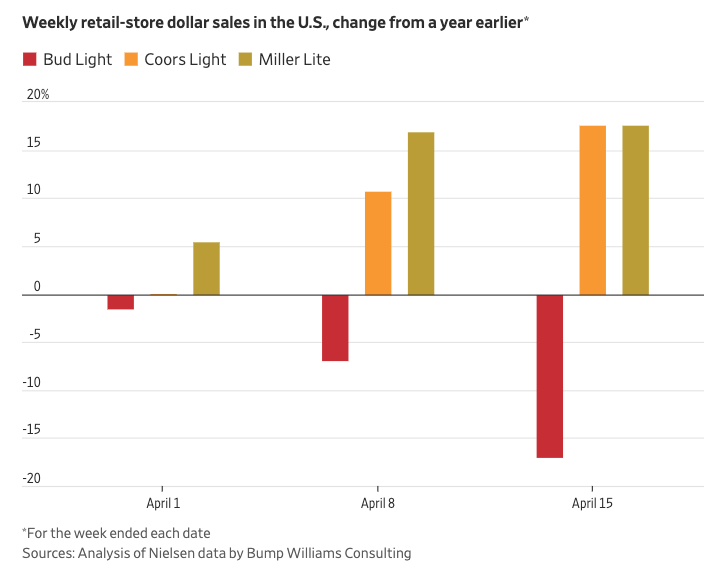 Bump Williams Consulting