Watch Live: Japan Attempts World's First Commercial Moon Landing
This will be the first attempt at a private moon landing.
Update (1305ET):
Ispace has switched to pre-recorded videos on its YouTube live stream due to a communication issue with the spacecraft as it attempted to land on the moon's surface. The spacecraft's current status is unknown.
---
If all goes to plan, a Japanese lunar lander, which is transporting a rover developed by the United Arab Emirates, is set to touch down on the moon.
Ispace's Hakuto-R Mission 1 lander was launched atop a SpaceX rocket from Cape Canaveral, Florida, on Dec. 11. Since then, it has been on a three-month journey and just recently entered the moon's orbit, which lies about 239,000 miles away.
Earlier statements from ispace outline Hakuto-R is expected to land at "the Atlas Crater, located at 47.5°N, 44.4°E, on the southeastern outer edge of Mare Frigoris ("Sea of Cold")."
"Should conditions change, there are three alternative landing sites and depending on the site, the landing date may change. Alternative landing dates, depending on the operational status, are Apr. 26, May 1 and May 3, 2023," ispace officials said earlier this month.
On Monday, ispace shared a photo of the lander about 62 miles above the lunar surface.
Here's another photo of the lunar surface and the Earth in the distance.
According to Space.com, the Hakuto-R lander is expected to land on the lunar surface around 1240 EST (1640 GMT).
Ispace mapped out the entire mission.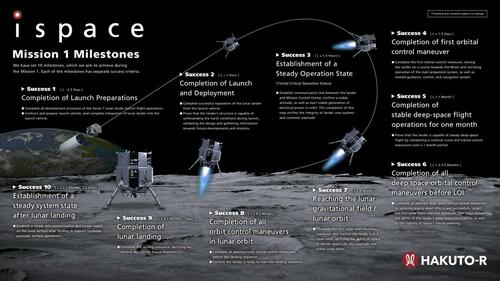 Live coverage starts around 1100 EST.
This will be the first attempt at a private moon landing.
---

The Ideas In This Tucker Speech Is What The Establishment Fears The Most
---